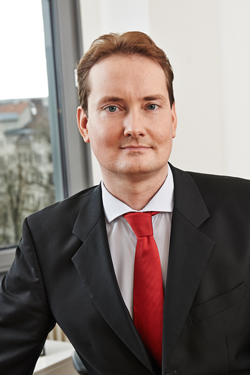 Dr. Holger Alt
, M.L.E.
Certified Specialist for Intellectual Property Law
Adjunct Professor for Fashion & Design Law
Partner in our Berlin office
Oranienstraße 164
10969 Berlin
T +49 / 30 / 61 68 94 03
F +49 / 30 / 61 68 94 56
Practice Areas
Contract law advice in connection with COVID-19
Intellectual property law, in particular trademarks, design rights and copyrights
Portfolio management
Research & Development contracts
License & distribution law
Competition & advertising law
Expertise
Holger Alt's work focuses on the defence and enforcement of intellectual property rights (trademarks, company names, design rights). He manages a large number of international trademark portfolios from various industries and advises his clients on the development of national and international trademark strategies as well as cross-border disputes.
Holger Alt has many years of experience in the development of contractual licensing and distribution models and advises on all contract law issues in connection with COVID-19. He also advises companies on unfair competition law disputes and advertising law issues.
His clients include global players (producers, suppliers and retailers) in consumer electronics, the pharmaceutical and biotech industries, as well as the fashion and design sector. He also represents medium-sized companies and a large number of start-ups.
Qualifications
Legal studies at the University of Hanover (Germany), University of Copenhagen and Copenhagen Business School (Denmark)
Admitted to the German bar in 2005
Specialized Intellectual Property Lawyer since 2010
Adjunct Professor for Fashion & Design Law at AMD (Academy for Fashion & Design), Berlin
Lecturer at the German Lawyers Academy (DAA)
Coach at Berlin-based higher education program "B!Gründet" for start-ups
Affiliations
Member of Executive Committee ialci (International Association of Lawyers for Creative Industries)
Member of the German Association for the Protection of Intellectual Property (GRUR)
Member of the German Association for Distribution Law (DGVR)
Recognitions
Best Lawywrs 2020: Dr. Holger Alt was honored as one of Germany's Best Lawyers ("Deutschlands Beste Anwälte 2020") in advertising law.
Legal 500 2019: The "sound strategist" Holger Alt is highly recommended due to his "long-term experience and strong business sense".
Legal 500 2018: Holger Alt […] always gives "well thought out recommendations" and is highly appreciated for his "excellent contract design".
Legal 500 2013, 2014: Holger Alt offers highly professional legal advice in trademark matters "with keen insight."
Publications
Holger Alt has (co-)authored articles in both national and international publications, including:
Article on Foreign Language Trademarks – their protectability in Germany ("Fremdsprache Wörter als Marken – Was ist in Deutschland schutzfähig, was nicht?"), in German Law publication Der IP-Rechts-Berater (IPRB) 2021, 239-243;
Co-author of the new Beck Online Commentary on Design law (2019);
Protection against imitations in co-operation with customs authorities ("Nachahmungsschutz mit Hilfe der Zollbehörden"), in German IP law magazine Der IP-Rechts-Berater (IPRB) 2016, 229 ff;
"The Rules on Recovering Costs" in Germany, article in Managing Intellectual Property, March 2015;
Discussion of legal status of fictitious brands ("Duff Beer") made familiar by television ("Keine Sonderbehandlung für aus dem TV bekannte (fiktive) Marken") in German IP law magazine Der IP-Rechts-Berater (IPRB), 2013, 199;
Co-author of "Chapter 15.04 – Trademarks", in Campbell/Ruester, Business Transactions in Germany, Newark, San Francisco, 2013;
Discussion of the applicability of the general tobacco advertising ban on image advertising ("Gilt das allgemeine Tabakwerbeverbot auch für Imagewerbung?"), in German IP law magazine Der IP-Rechts-Berater (IPRB), 2011, 170;
Annotation on decision by European Court of First Instance (CFI) (T-336/08) from Dec. 17, 2010 on implementation of trademark rights ("Wer kennt den Schokohasen? – Verkehrsdurchsetzung einer dreidimensionalen Gemeinschaftsmarke") in German IP law magazine Der IP-Rechts-Berater (IPRB), 2011, 99;
Co-author of "Locarno Agreement – International Classification for Industrial Design (Locarno Classification)" on world intellectual property rights and remedies, CILS, 2008;
Discussion of legal safeguards against abuse of intellectual property rights ("Alles im grünen Bereich?" – Schutz des Geistigen Eigentums vor unerlaubter Ausbeutung") in Azur special issue, 2008;
Discussion of consumer protection and its effects on discounts and giveaways ("Rabatte und Zugaben – Eine Neubewertung unter dem Gesichtspunkt eines adäquaten Verbraucherschutzes"), 2005;
Discussion of legal measures provided under English and German civil procedure law for protecting merchandise against product piracy ("Effektiver Schutz von Merchandisingobjekten vor Produktpiraterie im englischen und deutschen Zivilprozess"), 2000.
Languages
German, English