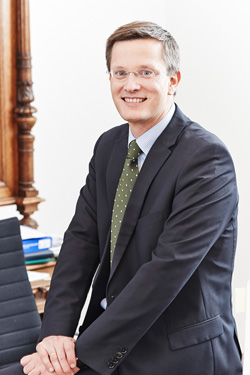 Jens Horstkotte
Partner in our Munich office
Widenmayerstraße 6
80538 München
T +49 / 89 / 22 33 11
F +49 / 89 / 21 21 59 59
Practice Areas

Corporate law
Mergers & Acquisitions
IT law
Data protection law
Employment law
Banking law
Expertise
Jens Horstkotte advises numerous national and international technology-oriented companies, not only on corporate law and corporate acquisitions, but also on structuring and negotiating IT project contracts as well as legal aspects in general, particularly in distribution, data protection and employment law. Besides consulting for technology-oriented companies, another focal point of Jens Horstkotte's services is consulting credit institutions, investment, management and financial services companies on regulatory and contractual issues.

Qualifications
Legal studies at the university of Freiburg, Germany
Admitted to the German bar in 1999
Speaking engagements (speaker: FORUM Institut für Management GmbH)
Recognitions
JUVE Handbook 2012-2020: Corporate Law – Frequently Recommended: "remarkable deal flow" (2017/18); "intensive involvement in important transactions" (2016/2017); "renowned and distinguished" (2015/2016); "Top-notch, client" (2012/2013)
Legal 500 Deutschland 2015-18: Corporate Law and M&A – Recommended
Legal 500 Deutschland 2011-12: "… known for the expertise of Munich-based Jens Horstkotte" (IT and outsourcing laws)
Publications
Jens Hostkotte has (co-)authored articles in international trade publications on a variety of subject matters, including:
co-author of the chapter on service contracts in: Schuster/Grützmacher IT-Recht Kommentar, 2020
co-author of the chapter "Unternehmenskauf" (Corporate Acquistions) in: Melis / Kronke / Kuhn, Handbuch Internationales Wirtschaftsrecht, 2016
co-author of the chapter "The Commercial Laws of Germany" in "Digest of Commercial Laws of the World", Tinsley/Kinsella, West/Thomson Reuters, 2016
author of the chapter "Licensing & Distributing Software in Germany", in: Licensing & Distributing Software in Europe – A Country by Country Look at Structuring International Software Agreements to Fit Your Needs, Boston 2005;
author of the chapter "Kapitel 19 – Consumer Protection", in: Campbell/Ruester, Business Transactions in Germany, New York 2002.
Languages
German, English